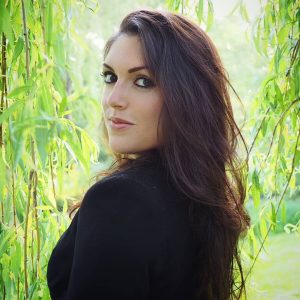 Miki María Vos, Leiden 1992, started at the age of four with lessons classical ballet. In addition, she soon did jazz ballet, hip hop, street dance, musical and modern dance – up to five lessons a week and at multiple dance schools. She was selected by various dance selection groups and thus performed at various theaters in the Netherlands such as the 'Leidse Schouwburg' and the 'Lucent Danstheater'.
In 2007 she started with flamenco dance, due to her half-Spanish background. She quickly found it so much challenge and fun that she decided  to concentrate on flamenco dancing only. Thus she followed several lessons weekly in the Netherlands with Joline Uljee, Josien Locher, Teresa Jaldón and at Codarts with Irene Álvarez. Furthermore she did workshops, courses and private lessons in Sevilla and the Netherlands with dancers like Javier Latorre, Patricia Guerrero, Rafaela Carrasco, Leonor Leal, Concha Jareño, Jesús Carmona, Felipe Mato, Antonio Molina 'El Choro', Olga Pericet, Eva Yerbabuena y Belén Maya.
During a half year internship at Granada University she also did intensive flamenco courses with Pilar Fajardo, Raimundo Benítez and Jara Heredia.
Besides her studies at Leiden University she teaches flamenco dance since 2011 – beginners level and advanced – and is increasingly invited for guest lessons and performances in The Netherlands, Germany and Spain. In 2022 she danced as a guest artist at Het Concertgebouw and in 2023 she danced at the XXVII Festival de Jerez under the direction of Javier Latorre.